I've been giving this some thought, as in
this post
, I said my goals for 2015 were to not make any goals. However, I like the idea of the
Vintage Pattern Pledge
hosted this year by
Marie
and
Kerry
, and I can actually tie the Vintage Pattern Pledge into my non-goal goal (which is to finish WIPs and use my stash). So I am joining in, but I am keeping things simple, and pledging to complete 2 specific patterns.
Firstly the WIP.
I started this coat in 2012. It saw a bit of progression at the end of 2013, but work stopped when I got to the bound button holes. If you've never sewn bound button holes before then you'll not know that unlike "normal" buttonholes which are pretty much the last thing you sew on a garment, bound buttonholes are pretty much the first thing you sew... yeah, it really hasn't seen much progression. I don't know how many times I have committed to finishing it, and then reneged on that commitment. To be fair, I probably wouldn't have got a lot of wear out of it this winter, since the 3/4 sleeves are not hugely practical, and it probably wouldn't look fantastic worn with a baby (in a sling) on top. But apart from anything else, I want it out of my WIP pile, and the fabric is far too beautiful to be sitting in a plastic bag in a cupboard.
Secondly, this pattern: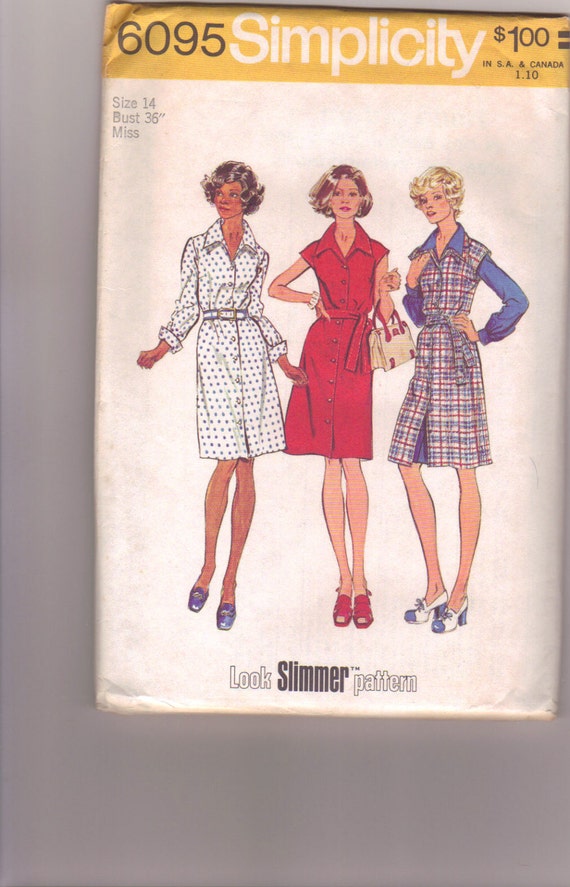 I found this pattern, when browsing for
patterns printed in 1974
. One seller on Etsy had listed this as having been printed in 1974, but actually it was 1973, but I loved the pattern so much, I had to have it. Just look at that sassy lady in red!!!! She absolutely sold me the pattern, but I also love the extended shoulder/cap sleeve of the short sleeved version. The seller was US based and didn't ship overseas, so I had her send it to my sister in law who lives in Yonkers, NY. My mother in law was over visiting at Christmas, so she brought it back for me. Since I went to the effort to buy this pattern, it seems obvious that I should prioritise it for this year. If I can make it from stash fabric, so much the better, but nothing that I have is currently springing to mind. Plus, I'm not sure I can see beyond a red version...
So, here I go:
During 2015, I, Helen of Grosgrain Green will complete 2 specific vintage patterns: Simplicity 6095 and McCalls 7619.
Are you joining in? If so, what is your pledge?