What is the definition of a quilt? Does it need to be pieced? It probably needs to be quilted at the very least. If it's neither pieced, nor quilted, is it simply a blanket? I ask, because I don't know what to call my latest project.
Photo bombed by Winnie the Pooh
I have wanted a blanket for a while - our flat used to be freezing, especially post 9pm when the heating goes off. Since we had cavity wall insulation a few years ago, this has been less of a problem, but I still wanted a cosy blanket that I could keep in the living room, which looked nice in the living room. I have been giving some thought recently to making our house look a bit more, well, grown up. Previously I took great pride in my "mismatched" approach, and I do still abhor anything too matchy
matchy, or symmetrical, but recently I've started to wonder if maybe, my stuff just doesn't really go.
I spoke previously about my double gauze journey: once I realised that the C&S double gauze just wasn't going to work, I started to browse other ideas. Nani Iro is a fabric designer that properly came to my attention last summer, so I thought I'd take a look - and fell in love (again? Yes, but this time it was REAL) with this fabric:
I wanted something different for the back, and so convo-ed Frances at Miss Matatabi for a suggestion. She came up with a couple of options, pretty much immediately. Neither I would have chosen myself, so it was nice to get different ideas. I went with her suggestion of Mountain Views in natural, which i was pleased to discover on arrival has lovely shiny metallic bits.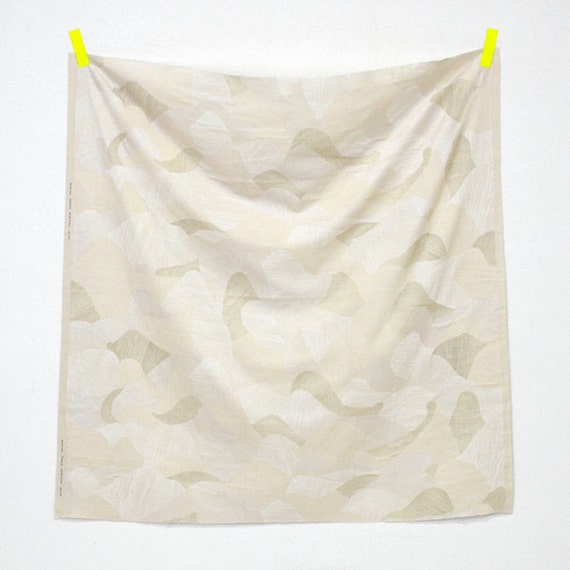 The fabrics are a bit different to each othher. The Water Window is called Wata Double Gauze and it is a much softer, looser weave to the Mountain Views, which feels quite stiff in comparison (it's not, just in comparison). They were also different widths which was slightly annoying.
After some consultation with some quilting friends on IG (thanks Nessa and Katy) I opted to use cotton batting in the middle, which I got from Mandors in Glasgow. It wasn't particularly cheap at something like £16/m, but it's super wide (about 2m), so I as able to get away with a "generous metre".
I didn't bind the quilt. This was an aesthetic choice. I didn't want to compete with the main fabric. It also meant buying less stuff, and made for a quicker project. Instead, I sewed the front and back (sandwiching the batting in there too) right sides together, leaving an opening, turned them through, hand stitched the opening closed, and then top stitched about half an inch from the edge, all the way around. I like the clean finish this gives, and it also allowed me to keep the "watermark" with the name of the fabric, which is rather nice I think. My edges are not completely square - the shifty nature of the double gauze made this difficult - but since the print is deliberately wonky, I'm not too bothered. I got it as straight as I could, and left it at that.
I also didn't quilt the quilt. Which is why it's probably not a quilt. Instead I did occasional stitches (there must be a proper quilting name for this) every so often. I literally just sewed 2 stitches "on the spot", leaving long tails which I then tied. Again, I like this. It doesn't mess or compete with the print and it keeps the blanket nice and drapey. As much as I love the look of quilting, I do think it adds body.
Teeny tiny stitch where the 4 squares meet.
The underside of the stitch
I am absolutely delighted with my resultant blanket. It's lovely and cosy and absolutely beautiful to look at. So much so, that I am considering buying more for when the inevitable child spills something/pukes over it. I did consider banning them from ever touching it, but I've been trying not to be mean mummy lately.
I also made a cushion cover, while I was on this home dec kick. A couple of our cushions are in a very sad state, and have been torn for a long while. One I want to try to mend, bit the other I decided just to re-cover.
I bought the fabric from John Lewis. It was part of the 150 years range from last year and was in the sale - not the crazy bargainous £5 sale, but half price which put it at a much more reasonable £9/m. It's a cotton poplin, so a bit lightweight for interiors, but hopefully it'll last ok. I bought half a metre of each, and I have enough leftover to make another (smaller) cushion. This was my first ever attempt at piping and I love it! I just used a zip foot, which I thought gave OK results, but I think I will buy a piping foot if I use it again, particularly for garment sewing.
I used these tutorials for attaching the
zip
, the piping (
here
and
here
) and
joining the piping ends
. I recycled the zip from the old cushion cover. I messed the zip up a bit, but it's not bad for a first attempt (I only ever use invisible zips in clothing, so a standard zip was strange, for me!), and my piping pride more than makes up for it. I love it, and I love how well the colours go together, and go with the blanket. Without being too matchy matchy!!!! :)
Now to get back to sewing some clothes!