Isn't the online sewing world distracting? I mean this in the most positive way, and I'm only distracted because I let myself be, but... isn't it just?
I really enjoyed
Sew Grateful
week. The number of different takes on each day's theme was so interesting - is it bad that I didn't write that I am sew grateful for my husband for allowing me to indulge in my sewing obsession, permitting me to take over most our our very limited available storage space in the house, for rushing home from work to allow me to rush out to my class, and for dealing with a tantrum-ing toddler as a result of said class ("No want you Daddy! I want Mummy!")? - and the little bit of exposure and additional (some!) traffic I got was lovely! But it was also great to just be acquainted to so many more blogs, that I hadn't previously discovered! This brings with it more inspiration, more "friends", , more hints and tips and more pretty things to look at. The downside, however, is twofold: 1. Even more time spent glued to the Bloglovin iPhone app, and 2. Even more shiny challenges to inspire but also divert me away from my aims.
I posted
here
about my plans for my Charlotte (now
completed
) and my 60's coat, which I am procrastinating on because I am scared. I really, truly want to make this coat before it becomes too warm to wear it (Ha! I live in Edinburgh! I'll probably NEED to wear it in August!), but it just seems so difficult and will take ages and I'm scared the wool will be horrible to work with, like my Charlotte skirt and... oh! I've just spotted something sparkly, new and tempting...
Initially I thought, that looks like fun, but I don't watch the show, I don't want to go out buying even more patterns, and it's unlikely I'd get much wear out of something that qualified for this challenge anyway. Then, I thought "well maybe it's just any old 50's or 60's item that would fit the era" - which would be a good incentive to start on the coat. But Julia's rules are clear - she wants either a copy of an actual Mad Men garment, or something that is inspired by an actual Mad Men garment. I did flick through her Pinterest board in the hope that I might see a similar shaped coat, but nothing doing. But of course, while you flick through, you inadvertently start re-pinning, and then you start clicking through to the links and doing a bit of browsing and before you know it you've spotted this:
And just as you're packing up the laptop for the night, and getting ready for bed, suddenly you remember you actually own the below pattern, which has a very similar neckline, and before you know it you're digging out patterns at 11pm and then lying in bed, devising plans in your head!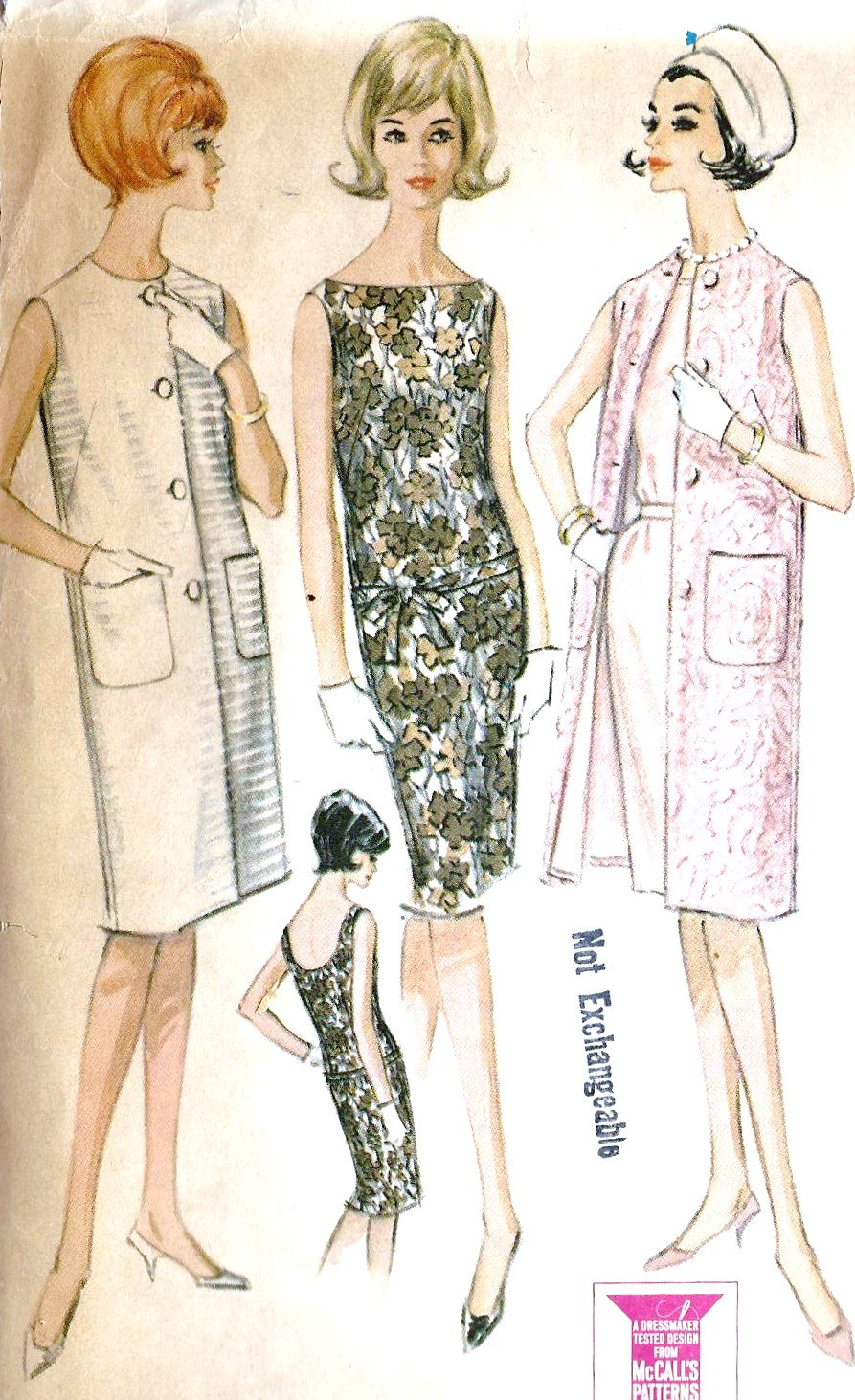 I have not yet confirmed that I am joining the Mad Men Challenge, I need to work this out and to see if I can find some appropriate but not too pricey fabric, but here are my thoughts...
The neckline of the vintage pattern (which, along with the back neckline, is the reason I bought this pattern) would work here. I can't find pictures of the backs of the inspiration photo, so I figure I can do what I want there, as long as it's appropriate. However the vintage pattern is much looser fitting. I did briefly think I could just take it in, but then remembered my
Elisalex
pattern, which has very little ease in the bodise. The Elisalex also has sleeves which the Joan inspiration dress has, so I figure I could trace the bateau neckline onto the Elisalex bodice and I have two ticks in the box! The Elisalex has a back zipper but the vintage pattern has a side zipper, which I kind of prefer for this dress. Am I simplifying things, or is it as straightforward as cutting the back piece on a fold and then installing an invisible zipper in one of the side seams? How would that work with sleeves?
Now to the skirt - the Elisalex has a tulip shaped quite full skirt, but Joan's looks more straight in shape. I am wondering if I could use either the
Charlotte
skirt, or this
DIY Couture tulip
skirt (which is more pencil at the hem) instead. I kind of like the idea of the tulip shaped pencil skirt as this will give me the illusion of Joan's hips, which I do not possess.
For fabric, I'm thinking a cotton with a slight stretch and a slight sheen would be good. I'll go floral if I can, but am not too bothered. This would definitely be an interpretation rather than a copy!
I have only once tried to Frankenstein 2 patterns, which was really just a matter of adjusting the sleeve length and shape, and I managed to do something wrong with the grain then, meaning my seams twisted. So I'm aware I'm probably punching above my weight with this idea, but hey it'll be development! It'll stretch me! And I'll hopefully learn something new along the way (even if it's what not to do).
What are your thoughts? Is this doable? Any tips, suggestions or advise? Or should I just forget it and crack on with the coat?